Paris, Here We Come!!!
The last couple of months have been hellishly hectic for me and one of the very few sources of joy during this period has been Arsenal's amazing run in this year's Champions League. With a young makeshift defence and a disastrous premiership season on the side, this current Arsenal side has displayed tremendous strength of character to get this far in the tournament which has, until now, proven to be their waterloo. Agreed that they were insipid in the second leg of the semi-final against Villarreal but it was just one bad game after five great ones and anyway, Champions League semifinal matches are always nervy and cagey affairs. I'm also very happy that Jens Lehmann is finally getting the credit he deserves for an absolutely outstanding season. Henry, Fabregas, Reyes and Hleb may have caught the eye, but Eboue, Toure, Senderos, Flamini and Lehmann are the real heroes for me.
And in the end, all said and done, this year's finale in Paris will be the dream final that everyone in the footballing world wanted to watch and there can be no arguments whatsoever about the fact that the two best teams in the tournament will be playing in it. Me, I can hardly wait. Mark your calendars, people. On the night of May 17th, at the Stade De France, it's Arsenal vs. Barcelona, Henry vs. Ronaldinho… mouth-watering, to say the least.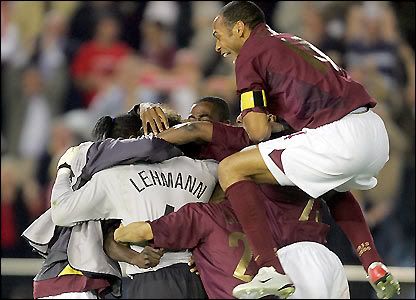 Go Gunners, Go!!!